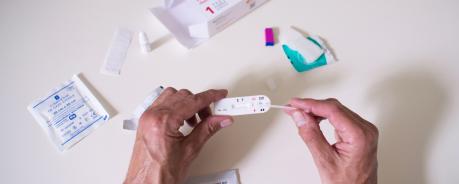 Rapid test
in our counselling centre
Every Tuesday from 17:00 to 19:00 our Aidshilfe offers an HIV rapid test for self-testing. Experienced staff are available to provide advice and explain the application step by step. The "Exacto" brand test has a reliability of 99.9 percent and delivers a result after 10 minutes. Only a drop of blood from the fingertip is required for the test. Note the diagnostic gap of 12 weeks after a risk contact. The test is available at a price of 15.00 Euro. Consultation and test are anonymous. During our opening hours, the test is also available without consultation, for example for self-testing at home. An HIV self-test can also be bought in pharmacies and drugstores or ordered from Amazon.
Laboratory test
at the health department (Kreisgesundheitsamt)
Every Wednesday from 15:00 to 16:30 the District Health Office (Kreisgesundheitsamt Unna) offers an open consultation hour with the possibility of HIV testing. The test is free and anonymous. A conventional laboratory test with a blood sample from the arm vein is used. The diagnostic gap to be observed is six weeks after a risk contact. It makes sense to test the blood sample for syphilis at the same time. The result can be collected after one week. An HIV test can only be carried out in the branch offices of the health authorities in Lünen and Schwerte after prior appointment by telephone.
In Lünen the health office is attainable under the call number (02306) 100520 and in Schwerte under (02304) 240700.